Sometime last week I entered Sew Much Ado's Copycat Challenge. 
It was a challenge that was divide into 3 categories….  Clothing,  Jewelry/Accessories, and  Home Décor/Furnishings.  The rules stated that you had to enter a photo of your copycat creation and a photo of your inspiration.
I entered my son's PB Inspired Bed.
And it was chosen as one of the finalists! 
Please check out ALL the finalists and vote for your favorites!!! Hurry voting ends Friday November 19th.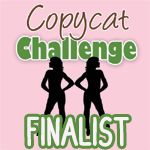 This was such a great idea from Sew Much Ado. 
I love a good knock-off!!!